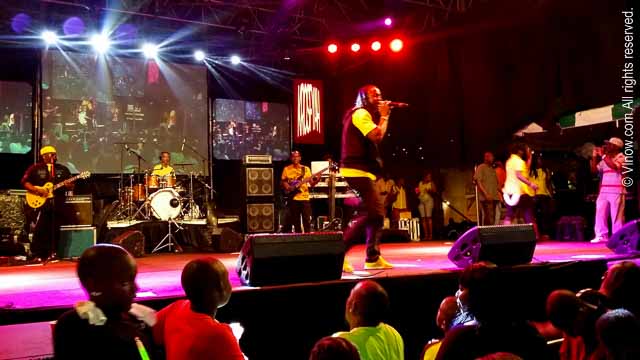 In the Caribbean, African rhythms were fused with European elements creating new Creole musical forms that continue to develop into unique musical expressions today.
In the Virgin Islands you can hear Caribbean rhythms, intoxicating steel drums, high-energy dance music, spiritual hymns, soca, reggae, blues, salsa, meringue, jazz, classical and an assortment of other music genres. While a variety of music types are played in the Virgin Islands, it is calypso, soca, reggae and steel pan beats that are the sounds of the Caribbean must often heard.
Calypso
Historically, calypso music can be traced to the days of slavery. It was a means of communication and a vent to the strains of oppression. Calypso has it's roots on the island of Trinidad. Present in Trinidad during French and Spanish occupation, calypso did not take root until English occupation. With English as the common language Calypso could now be understood by the entire population. Calypsonians are respected as news carriers and what they sing is considered to be truthful interpretations. Calypso is most famously known for expressing political commentary through satire and sarcasm. Today Calypso has evolved into two types, the traditional informative Calypso and a new dance hall type of calypso music.
Soca Music
Add some soul to Calypso and you have Soca. The origin of the music is Trinidad and Tobago. The lyrics are used to express political and social commentary.
Reggae
Reggae music is an offshoot of ska music. The order of creation is ska then rock-steady then reggae. Famous reggae artists like Bob Marley, Peter Tosh and Bunny Wailer began their careers as ska musicians. Ska music started as dance music. Audiences wanted a more steady beat, and the music evolved into the more mellow reggae of today. Reggae lyrics usually have an emphasis on redemption. Reggae music has traveled and become popular across the world.
Other Caribbean music types that can be heard in the Virgin Islands
Fungi
Is a musical form native to the British Virgin Islands. It is characterized by a variety of instruments and is sometimes called a scratch band.
Meringue
Is a high energy music characteristic of islands such as Puerto Rico and the Dominican Republic.
Rock Steady
Is the precursor of reggae. It is slower, heavier and more vocal.
Salsa
Is a Latin dance music developed in Puerto Rican and Cuban communities in New York.
Zouk
Is a dance music from the French Antilles and is played in both slow and fast beats.
Popular Musical Events in the Virgin Islands
Various music venues occur throughout the year. During Carnival there are often Latin venues, Calypso Shows, Steel Pan performances and other musical showcases. Blues festivals, jazz concerts, reggae concerts, steel pan shows, zouk music and more are sponsored at hotels, at restaurants and at local events. Visit the Event's Calendar to learn more.