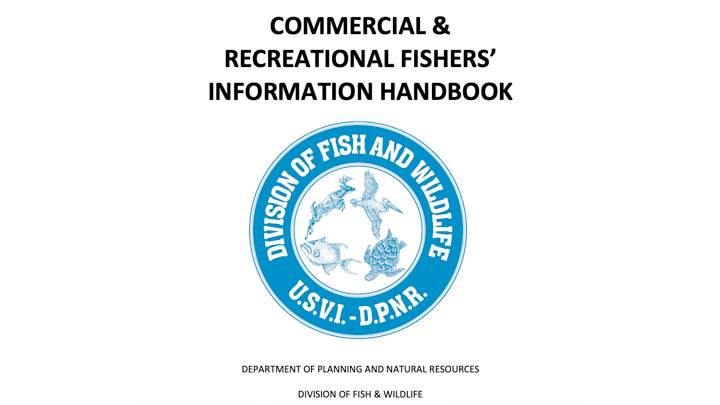 The waters around the Virgin Islands are home to a great abundance of marine life. Various regulations regarding protected areas, species, size and catch limits are in place to help manage and protect the fisheries. Some of these territorial and federal restrictions are presented below, along with resources for more comprehensive information.
License
General recreational fishing permits are presently not required for recreational fishers in Virgin Islands. This includes persons who engage in fishing for the sole purpose of providing food for themselves or their families and those who catch and release fish. Sale of catch by recreational fishers is not allowed. Recreational fishers cannot use the following fishing gear: pots, traps, set-nets and haul seines.
Recreational fishers however are required to have permits to fish in three special locations: 1. A recreational shrimp fishing permit is required for the harvesting of shrimp from Altona Lagoon and Great Pond on St. Croix. 2. A permit is required to collect baitfish with a cast net within 50 feet of the shoreline or fish with a hook and line in the St. James Reserve. All other fishing and harvest of other animals and plants is prohibited in this area. 3. A permit is required to collect baitfish using only a cast net within 50 feet of the north and south shorelines of Cas Cay in the Casy Cay/Mangrove Lagoon Marine Reserves off of St. Thomas. All other fishing and harvest of other animals and plants is prohibited in this area. Permits can be purchased at the Division of Environmental Enforcement.
Tip: Commercial fishers are required to have a commercial fishing permit.
Tip: The British Virgin Islands and Puerto Rico have their own laws and regulations pertaining to fishing. For example, licenses are required for recreational fishing within the British Virgin Islands.
Fishing Regulations: (This is not a comprehensive list.)
Sea Turtles are endangered species. No harvest, no possession and no harassment of sea turtles or their eggs.
Goliath Grouper (Jewfish) is an endangered species. Harvest is prohibited, no possession allowed.
The possession of Nassau grouper is prohibited year round in the territory until the CFMC has determined that it has recovered.
It is illegal to spear fish for lobsters in all Territorial waters. Lobster is to be captured only by hand, snare or trap.
No person is permitted to retain, remove, possess, or injure any conch that is less than nine inches in length from the spire to the distal end, or that has a lip thickness that is less than 3/8 inch. There is no sale of undersized conch shells or meat from undersized conch.
All conchs landed in the Regulatory Area or coastal waters must be alive and intact (in shell) when brought to island on which conch is first sold or consumed. Taking conch to off shore cays and islands for purpose of removing from shell is prohibited. No disposal of shell at sea before landing.
There are various Marine Reserves around the Virgin Islands in which fishing is prohibited, limited and/or require special permits. Contact the Division of Environmental Enforcement for an up-to-date list.
Federal Permit Needed for Atlantic Blue Marlin, White Marlin, Sailfish, Yellowfin Tuna and Skipjack Tuna.
In National Park waters fishing using rod and reel, handline, traps and baitfish nets is permitted. There are however restrictions on gear such as trap size and net size. The use and possession of spearfishing equipment within the park is prohibited. Fishing is allowed outside of swim areas, but not in Trunk Bay and Jumbie Bay on St. John. There are three area fishing closures within the V.I. National Park: A. between 8am and 5pm at the NPS Red Hook Dock and NPS Cruz Bay Finger Pier and Bulkhead, B. within all boat exclusion areas, and C. from any NPS mooring balls. For up-to-date information on fishing regulations within the Virgin Islands National Park, contact the NPS office on St. John at (340) 776-6201 x 254.
SPECIES
SIZE & LANDING RESTRICTIONS
TERRITORIAL WATERS
FEDERAL WATERS
NATIONAL PARK
CLOSED SEASON
Whelk
Minimum size of shell must be great than 2-7/16″ in diameter. Must land whole in shell.
1 gal. per fisher per day
April 1-September 30
Conch
Minimum size 9″ shell length from spire to distal end, or 3/8″ lip thickness. Must land whole in shell.
6 per day per recreational fisher, not to exceed 24 per boat per day.
3 per day per fisher, not to exceed 12 per boat. No use of hookah gear.
2 per fisher per day
June 1st – Oct. 31st
Spiny Lobster
3.5 inch carapace. Must landed whole. No harvest of females with eggs. No spearfishing, hooks or gigs or use of chemicals.
2 per fisher per day
Yellowtail Snapper
Size Limit is a total length of 12 inches.
Blue Marlin
No commercial harvest; no sale. Minimum size regulation of 99″ Lower Jaw Fork Length.
White Marlin
No commercial harvest; no sale. Minimum size regulation of 66″ Lower Jaw Fork Length.
Sailfish
63 "No commercial harvest; no sale. Minimum size regulation of 63" Lower Jaw Fork Length.
Yellowfin Tuna
Minimum legal harvest size 27″ fork length and a recreational bag limit of 3 YellowfinTuna per person per day.
Note Territorial Waters extend from shore to 3 miles offshore
Note Federal Waters extend from 3 to 200 nautical miles offshore.
More Information
Information for this section was gathered from the U.S. Virgin Islands Commercial & Recreational Fishers' Information Booklet published by DPNR's Division of Fish and Wildlife and the Division of Environmental Enforcement, dated 2018. Download Booklet (PDF File).
For questions regarding territorial regulations contact the Division of Environmental Enforcement in St. Croix at (340) 773-5774 and St. Thomas (340) 774-3320 ext. 5106. For regulations in federal waters contact the National Marine Fisheries Service.
Respect and appreciate the ocean. Help keep fisheries in the Virgin Islands healthy and sustainable for future generations. Follow USVI Fishing Regulations, and Good Fishing!
Note Information for this section was provided in part by Department of Planning and Natural Resources, Division of Fish and Wildlife.8