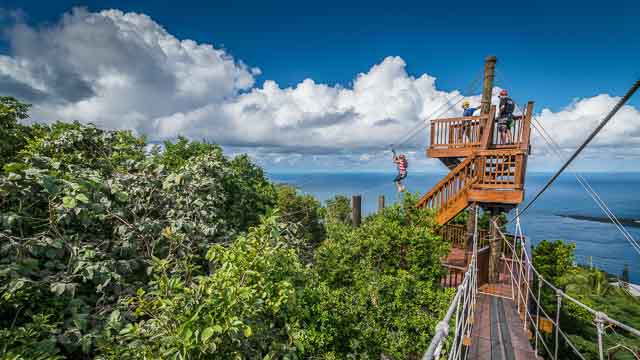 Looks like it's the adrenaline pumping type of activities that you enjoy! How about parasailing, Jet Boats, skydiving or zip lining?
Parasailing: Get a high flying, bird's eye view. Sit in a harness attached to a parachute, launch from the deck of a boat, and then up, up you go – up to 800 feet. The thrill of soaring in the air with a fantastic view is exciting. Options On: St. Thomas, St. John
Water Tours & Adventures: If you are looking for a unique on-the-water-tour in St. Thomas, consider an adrenaline pumping jet boat tour, or a unique and entertaining cycleboat party tour. 
Skydiving: Take a really big leap; from say 10,000 feet up. Your heart is sure to be racing as you dive toward the island. And a bonus, you'll get some breathtaking aerial views as you fly to your jump location.
Zip lining: Enjoy the scenery while taking an exhilarating zip! The growing trend of zip lining which combines an adrenaline rush with speeding through nature is sure to be a memorable day of your vacation. Available On: St. Thomas.