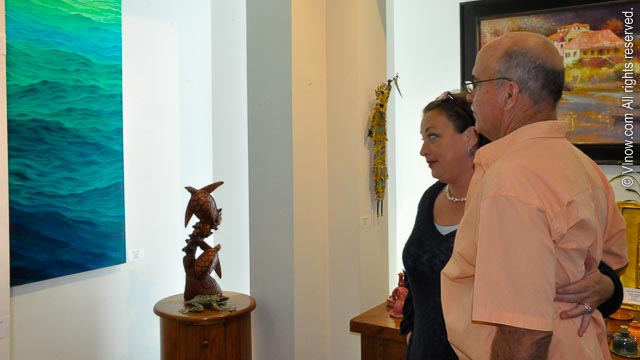 Arts & Crafts: The islands are home to many artists. Their work ranges from watercolor and oil paintings; to sculptures, wood-turning, hand-made jewelry and more. Look for local arts and crafts in galleries, shops, from vendors and at cultural events.
Art Classes: Some galleries, art centers and resorts offer art classes for adults and children. Most are for a couple hours and project based. Dropping in for a class can be a nice way to create a unique vacation souvenir; and mingle with residents.
Galleries: There are an assortment of art galleries on St. Thomas, St. Croix and St. John. Special art showcases, usually in the early evening, are common on weekends. There is a popular Art Walk once a month during season on St. Croix.
Performing Arts: There are groups that maintain traditional dances like quadrille and bamboula; as well as classical dance like ballet. Mocko jumbie troupes of stilt dancing are popular. There are musicians and bands that perform a variety of genres. Theater groups stage plays and musicals.
Photography: Stunning turquoise water, white sand beaches, brightly painted homes, tropical fruit stands, sunsets, sailboats… these are just some of the wonderful possibilities you can look forward to capturing. On island photographers sometimes offer specialty classes; like underwater.
Caribbean Culture: Have you seen a mocko jumbie? Heard the sweet sound of steel pan? Swayed your hips to quelbe or soca? Tasted kalaloo? Sample the islands' culture by trying island dishes, seeking out live music performances and attending cultural events.
Genealogy: Genealogy libraries are available on St. Croix and St. Thomas. They focus on records for the Virgin Islands and Caribbean region. Old books, maps, photos are also part of the collections. If you are interested in history it's worth a visit; and definitely if you want to conduct genealogy research.
Heritage Attractions: The islands of the USVI were a Danish colony until 1917. Learn about Caribbean colonization by visiting some of the historic forts, churches and homes located in the main towns. Plantation ruins on St. Croix and St. John can be visited.
Museums: Museums on St. Croix, St. Thomas and St. John house collections of West Indian Mahogany furniture, clothing, photos, artifacts from Amerindian inhabitation of the islands, plantation history, slavery, as well as items from modern times. Heritage museums also exist.