Please Register / Login to take part in discussions about the Virgin Islands.
My family and I traveled to St Thomas a few years ago and we loved it. We are hoping to go back again this summer. Last time we stayed at the Sapphire Beach Resort. It was very nice but small. I have been researching some other possibilities and found Paradise Villa on Pineapple Beach. However I can't find Pineapple Beach on any map. Is anyone familiar with the beach or the villa? We need a family oriented setting and we would love to be right on the beach as we were at Sapphire.
Thanks,
Judy
Posted : April 12, 2004 9:38 am
You are probably looking for Pineapple Village Villas - 340-775-5516
Pamela
Virgin Islands Charteryacht League
Posted : April 12, 2004 10:29 am
Actually, I was looking at "Absolute Paradise Villas" . It lists the address as Pineapple Beach, St Thomas.
Posted : April 12, 2004 3:59 pm
Pineapple Beach is where the Palace now exists, formerly the Rennaissance. Pineapple is located on the grounds of the hotel.
Ronnie
Posted : April 12, 2004 4:03 pm
Hello Judy,
Pineapple Beach is really called Water Bay on maps or Renaissance Beach on other maps because that was the name of the resort that was on that beach. It is now called Grand Palace Resort. In any case the Pineapple properties are on the resort grounds of Grand Palace.
This beach is in the cove on the opposite side of Coki Point if you can find Coki Point on the map you were looking at.
It is an ok Beach and nice property. Are you looking for larger resort then Sapphire or a larger beach?
--Islander
Posted : April 12, 2004 11:10 pm
Actually a larger room. We loved Sapphire Beach so maybe we should stick with that. How do the beaches compare?
Thanks for your help.
Judy
Posted : April 13, 2004 1:14 pm
Hello Judy,
I am not sure which has larger rooms. As for the beaches, I like the setting of the actual beach (sand area) of Water Bay (where Pineapple is located) but the water is not very nice; its calm but is murky because of seagrass in many areas. Sapphire beach overall (water and shore) is nicer. You might also look into Secret Harbor, nice property and beach.
--Islander
Posted : April 15, 2004 11:02 pm
In 1961 I courted my wife at the Pineapple Beach Club. I have fond memories of the club and of the Pepperdines. 
Posted : July 1, 2018 3:23 pm
Hello @alvmitchel, thanks for sharing. That's 57 years ago! I found an old postcard online of the property from around that time. Pineapple Village is still there, the larger property is now Margaritaville.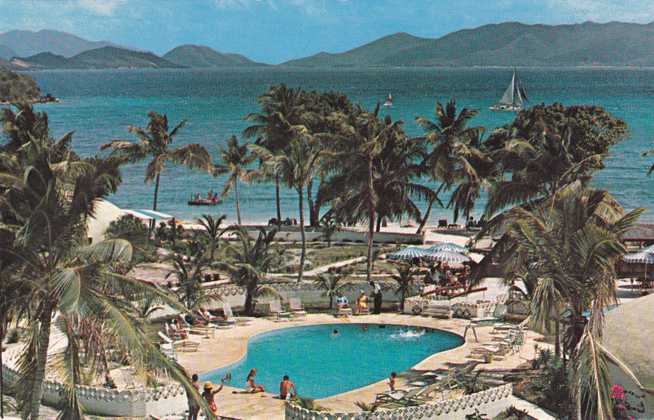 Posted : July 4, 2018 11:41 am