Event Calendar
Sunday - August 16th
31st Annual Texas Society Chilli Cookoff
Brewers Bay, St. Thomas @ 11:00am
Over 75 local chili teams will create from scratch beef and vegetarian chili that will be judged and awarded "Best of the VI". Live country style music, refreshments, event tee shirts, lots of great chili and plenty of parking will be available for all. All proceeds benefit local on-island charities and include Dial a Ride, the Family Resource Center, St. Thomas Rescue, St. Thomas Search and Rescue and numerous others. Be cool, don't bring a cooler to this fundraiser benefiting local charities. Convenient parking in the Reichhold Center lot will be available for a nominal fee.
Planning an Event?
Submit it now to be included in the Virgin Islands event calendar.
Submit Event
* Although every effort is made to keep this information current, events are subject to change. The events are presented as is and VInow.com does not endorse them or make guarantees about them.
August View

S
M
T
W
T
F
S
1
2
3
4
5
6
7
8
9
10
11
12
13
14
15
16+
17
18
19
20
21
22
23
24
25
26
27
28
29+
30
31
+

= Event Scheduled
Saturday - August 29th
Gospel Explosion 2K15
BCB Auditorium, St. Thomas
A night of fun, excitement and positive entertainment. Gospel music in a hip and exciting way. Featuring Artist like Positive, Ishika Charles, Jai Kingston, Jessica Reedy, Positive and many more. Tickets are $20. Ticket outlets, Natural Livity, Urban Threadz, Just Threadz & Chelsea Drug Store Tel: (340) 514-6903
Desiring Paradise
If you've ever considered moving to the USVI, or if you know someone that wants to, this book is for you. Desiring Paradise is a true story about two New Englanders who followed their dream. Experience the island from a different perspective - as newcomers trying to survive their first year in Paradise. It's guaranteed to raise your eyebrows.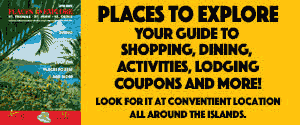 Submit Event to Calendar
×
Virgin Islands Newsletter Signup
Sign up now for our FREE Virgin Islands Now Newsletter and we will email you regular updates on what's happening in the Virgin Islands & on VInow.com. You can unsubscribe at any time. Simply fill in the form below.
×