Event Calendar
Saturday - May 4th
Lady Day At Emerson Bar and Grill
Pistarckle Theater, St. Thomas @ 8:00pm
This 'bio-drama musical' truthfully tells the story of Billie Holiday's tragic life. This is a unique theater piece, part nightclub act and part play. Denise Hummer, one of our islands preeminent jazz singers, will be reprising her role as Billie Holiday. Denise is thrilled to have the opportunity to, once again, portray this great artist through stage and song. This special, three performances only, show will not only include songs previously performed last year, but also include an additional song and expanded musical accompaniment - a guitarist. For more information visit: www.pistarckletheater.com
Saturday - May 11th
Lady Day At Emerson Bar and Grill
Pistarckle Theater, St. Thomas @ 8:00pm
This 'bio-drama musical' truthfully tells the story of Billie Holiday's tragic life. This is a unique theater piece, part nightclub act and part play. Denise Hummer, one of our islands preeminent jazz singers, will be reprising her role as Billie Holiday. Denise is thrilled to have the opportunity to, once again, portray this great artist through stage and song. This special, three performances only, show will not only include songs previously performed last year, but also include an additional song and expanded musical accompaniment - a guitarist. For more information visit: www.pistarckletheater.com
Friday - May 17th
Sunset Jazz in Frederiksted
Fort Frederik Beach, St. Croix @ 6:00pm
Sunset Jazz has played host to premier Caribbean and International jazz artists, and can boast the most beautiful 'back drop' of any jazz series in the world! Every third Friday of each month, come to the Fort Frederik Beach in Frederiksted from 6pm to 8pm for great music. Mother Nature assists in providing the event with wonderful scenery, beautiful sunset and cooling a Caribbean breeze. Sunset Jazz concerts are free; bring a chair or a blanket. Please no coolers. You can buy food and drinks from the concert concession area. This is a great family event, and concert goers can enjoy the Frederiksted nightlife and restaurants after the show.
Saturday - May 18th
Holiday Arts and Crafts Festival
Tillett Gardens, St. Thomas @ 10:00am
ARTS ALIVE presents Art in the Garden, Arts and Crafts Festival. Its going to be a fun filled day with great opportunities for shopping. Come see the work of local artists, listen to the sounds of our wonderful local musicians, and get involved in art. Tillett Gardens is located across from Four Winds Plaza. Art Festival is from 10am to 5pm. Tel: (340) 776-8566
Planning an Event?
Submit it now to be included in the Virgin Islands event calendar.
Submit Event
* Although every effort is made to keep this information current, events are subject to change. The events are presented as is and VInow.com does not endorse them or make guarantees about them.
May View

S
M
T
W
T
F
S
1
2
3
4+
5
6
7
8
9
10
11+
12
13
14
15
16
17+
18+
19
20
21
22
23
24
25
26+
27
28
29
30
31
+

= Event Scheduled
Saturday - May 18th
Rhythm and Passion
Reichhold Center, St. Thomas @ 8:00pm
Get ready to go on a mystical journey to discover the people, the stories and the drama behind the salsa, tango and gaucho. An international cast of singers and musicians perform before a backdrop of exquisite scenery depicting the origins of the tango in the seedy bars of 1920s Buenos Aires, Argentina. Revel in the joy and exhilaration of salsa dancing in the streets. Delight in the antics of the Argentine cowboy 'the Gaucho' and the dramatic storytelling of his art. Filled with the pulsing rhythms of salsa and tango, Rhythm and Passion brings audiences to their feet. For more information visit: www.reichholdcenter.com Tel: (340) 693-1559
Lady Day At Emerson Bar and Grill
Pistarckle Theater, St. Thomas @ 8:00pm
This 'bio-drama musical' truthfully tells the story of Billie Holiday's tragic life. This is a unique theater piece, part nightclub act and part play. Denise Hummer, one of our islands preeminent jazz singers, will be reprising her role as Billie Holiday. Denise is thrilled to have the opportunity to, once again, portray this great artist through stage and song. This special, three performances only, show will not only include songs previously performed last year, but also include an additional song and expanded musical accompaniment - a guitarist. For more information visit: www.pistarckletheater.com Tel: (340) 775-7877
Sunday - May 26th
Reef Jam
Rainbow Beach, St. Croix @ 1:00pm
Come out to Rainbow Beach for a fun day of activities, like kayaking, stand up paddling, food, fun and music. The mission of Reef Jam is to encourage marine conservation and stewardship through education. All afternoon and evening: 1pm to 10pm. For more information visit: www.reefjam.com Email
St. John Off the Beaten Track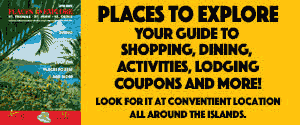 Submit Event to Calendar
×
Virgin Islands Newsletter Signup
Sign up now for our FREE Virgin Islands Now Newsletter and we will email you regular updates on what's happening in the Virgin Islands & on VInow.com. You can unsubscribe at any time. Simply fill in the form below.
×