Virgin Islands Travel Forum
How do I get to St. Croix?
What's the best way to get to St.Croix from St. Thomas? I've alrady been to St. Thomas and St. John. This year we are returning. we'll be staying in St. Thomas and would like to see St. Croix and the BVI.
Thank you for your help
)))


There are two ways to get to St.Croix. You can charter a boat, there are no ferries to St. Croix. Or you can fly - the Seaplane flys regulary to St. Croix as does several small airlines. The seaplane leaves from the Charlotte Amalie Water Front and the other airlines from the airport. The BVIs you can get to by ferry (the schedules and destinations can be found under island hopping and getting around on the navigation of this site) You can also fly to some of the islands in the BVI.


Sorry, only registered users may post in this forum.
St. John Feet Fins 4 Wheel Drive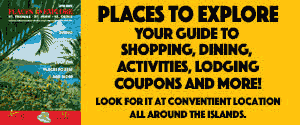 Virgin Islands Newsletter Signup
Sign up now for our FREE Virgin Islands Now Newsletter and we will email you regular updates on what's happening in the Virgin Islands & on VInow.com. You can unsubscribe at any time. Simply fill in the form below.
×