Virgin Islands Travel Forum
Surf Fishing
I will be visiting St John in July. Being from Maine I love to fish. I am hoping to bring some light tackle and do some fishing from shore in St John. Does anyone know if that is a common thing? Any license requirements? Any tackle or technique suggestions?

Thanks,

Rod


No license needed on STJ. Catch and release only within National Park waters. DOn't know if you will be bait, live lining or artificials fishing. Those little quarter ounce Kastmasters in silver or gold will do fine. Early morning is the best followed by late afternoon. Keeping an eye on the tides will help as well.

Best o'luck.

PS

No Stipers or bluefish there. ;-)


I will be staying on Hart bay beach area and will be bringing my rods. i have some kastmasters that I will bring. Any other tips?



Let me preface this by saying I am sure this is a dumb question. All of the gear that I own for fishing is for lake fishing - it's simply a casting reel and a medium flex rod (bass fishing). I'm sure my terminology is waaay off.

Would my rod and reel suffice for shore or rock fishing in St. John? If so, can anyone provide any guidance about what test line I should use, hook sizes, weights, etc. What would you fish for? What type of bait would one use?

I love to fish, but I am terribly inexperienced in ocean fishing. I would love to roll out of bed while there, however, and put a line out.



I will be going in May of 2006 to the Islands in the title. I will not be bringing my own surfcasters and would like to know if you can rent equipment on these islands to surfcast.I would be using live bait and would like to know what works best as well as what type of fish I will be catching.Particularly interested in barracuda,dolphin and whatever else I can land ....any info would be helpful.


Sorry, only registered users may post in this forum.
St. John Feet Fins 4 Wheel Drive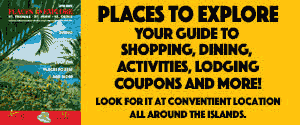 Virgin Islands Newsletter Signup
Sign up now for our FREE Virgin Islands Now Newsletter and we will email you regular updates on what's happening in the Virgin Islands & on VInow.com. You can unsubscribe at any time. Simply fill in the form below.
×