Virgin Islands Travel Forum
St. John vacation
A friend and I are visiting St. John for the first time July 8 for a week. Any "must see" or "must do" things we should do while there? Is there any ferries to St. Croix in the summer? Is is worth going to Water Island? Any advice would be very helpful since we want to make the most of our week! Thanks!


Staying on St. John at Cloud9Villas.....pic looked great.....people seemed nice....anyone have any experience with these villas?


Not much on Water Island, just houses. As for St. Croix, you would have to take a ferry to St. Thomas and then either fly or take the ferry from there to St. Croix. I am not sure if the St. Croix-St. Thomas ferry will be operational this summer, but you can definitely google it and find their number. It's called the Island Lynx ferry, I think.



We never left the island until our third trip to STJ. We'd thought about a daysail on each of the first two trips, but there was so much that we wanted to do and see on STJ that we just never got around to it. Get a guide book or two, rent a vehicle and explore.






The Island Lynx schedule is listed at the top of this page under "ferry schedules" and otherwise go to the St John site or the Water Island site.

With only one week on STJ you should probably just settle in and enjoy STJ. Trying to pack all four Virgin Islands into a seven-day stay is like trying to do a European trip of seven countries in seven days. Enjoy STJ, chill out, relax, get into island vacation time and just lay back.


STT Resident,
Although I agree with you some what, it wouldn't hurt if Verna checked out St. Croix or St. Thomas if they took day trips.


Thanks! I have purchased several books and we are planning on a day trip to St. Thomas and Water Island. Also lots of exploring and hiking! Just a few more weeks!


verna,

in past couple of years i've stayed at cl 9 on gifft hill twice after staying at cl9villas' sundance and moonsong once each. cl 9 was favorite because all on one level and since she's a lot higher up and you'll find fantastic (at times beyond description) views to west for sunsets and the lighting of st thomas each evening. my bride of 40 yrs and i both eligible for ss so not much into bar hopping but do love casual evenings on deck with favorite wines and grilling out after spending day on one or more of the mannnnyy beautiful beaches.

if staying on gifft hill, suggest take centerline rd up from cruz bay but south shore rd down is fine and has better views, just not as good a condition.

after my experiences with property manager, marcy appel, and her and owners attentiveness, i'll be shocked if you don't find your villa is clean, well equipped and supplied, very comfortable and service available if needed. while we didn't check info book at c9, if similar to sundance and moonsong, it'll contain a world of info of what to do on your trip.

while we had a very good experience in april 05 with villa temptress (similar west views) that we rented through destination st john, our heart is at c9 on gifft hill and that's where we'll stay for our fall trip if she's available. enough said?

have fun

papabou


Thanks Papabou,

We are staying at Moonsong....I have found Marcy to be very informative and helpful already. Now I really can't wait to get therre!!


verna,

while moonsong's much smaller than sundance and c9, the bride and i found her quite comfortable for 2. she took the downstairs bedroom since she enjoys "sleeping in" and louvered door between den and master bedroom (for ac) would have allowed my early mornings on business news to disrupt her sleep. great views from deck and you'll find her fully equipped though the bride refers to the laundry room as the dungeon.

if you're into snorkeling, ask marcy for directions for walk down hill to hart bay, went several times and never anyone there. rocky beach but great snorkeling. don't panic when you get to hard left uphill u-turn coming up tamarind, once you make turn it's an easy left into common drive of moonsong and sundance. since we spend days at north shore beach and came home by south shore rd, we'd stop at starfish market (on left as you leave town) or at simple feast (on right further out of town) to get something for dinner. as i have indicated the beaches by day and the west views in the evenings are what we enjoy most about stj.

we enjoyed 10 tables forupscale dining and found fishtrap and lime inn had good food though thought lime inn seating a little crowded. while all north shore beaches are exceptional, our favorites were hawksnest and maho though no facilities at maho. while bride was not up to (only time she gets her hair wet is when she washes it or gets caught in a sudden rainshower) i loved waterlemon and touring all nooks and crannies of coral bay in a dinghey rented at crabby's in coral bay. also while only had lunches there, we found dining at shipwreck in cb enjoyable.

too old to be completely computer literate, but have some great digital photos taken at moonsong (and sundance and around stj and stt) that i have on my computer for viewing (olympus program). be glad to send by attachment if you can tell me how.

tell marcy hello from ann & jerry bou and we hope to see her in the fall.

papabou


DL: "Not much on Water Island, just houses"????

Ft. Segarro. Bicycle tour. Honeymoon Beach. Heidi Honeymoon Gril which serves up excellent food during the day and also on Saturday nights. Pirate's Ridge that is a bar, deli, Pizza joint just up the hill from Honeymoon Beach.


I will give Marcy your message! Thanks for all the info....it is good to hear from someone who has been at the same place before! My email is....verna.fudge@verizon.net


I am sorry, I stand corrected.


Verna - just a helpful hint. Don't post your email address on an open forum. Use the PM feature available on this board to Private Mail a poster and then go from there.

Also, I gave you the links to get the Lynx Ferry schedule and the STJ and Water Island ferries as information so you could make your own decision. I think DL misinterpreted my post and I also agree with rojako's post about Water Island.

A week goes by very quickly and one week is just not enough time to absorb all of the USVI. Two to three days of simply unwinding, a trip over to STT for a day and then another couple of days maybe taking a daysail.

If you want to visit the BVI and the Baths for a great day trip, check out www.captainnautica.com and see if this might appeal to you. They do pick up on STJ.

Cheers and hope this helps!


Sorry, only registered users may post in this forum.
St. John Feet Fins 4 Wheel Drive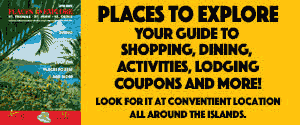 Virgin Islands Newsletter Signup
Sign up now for our FREE Virgin Islands Now Newsletter and we will email you regular updates on what's happening in the Virgin Islands & on VInow.com. You can unsubscribe at any time. Simply fill in the form below.
×