Virgin Islands Travel Forum
Cell Phone in St.Thomas
Does anyone know if thre are disposable cell phones in St.Thomas, Realized My phone would cost $.99 per minute plus Long Distance Charges to use from Bell in Canada.

Looking for a reasonable alternative to still be able to stay in touch with our guests there if we need to.

Thanks


Yes there are try to get ATT If you are making a stop in the states on your wait might be cheaper to pick it up there


So ATT would be better than Virgin ? A Virgin rep here in Canada said there are prepaid phones in the USA for about $40 which includes a bunch of minutes wasn't sure how many but I wouldn't need that much anyway.

Basically it would be a disposable cell phone.


AT&T Go Phones are a good bet. I just got a mailer from my villa agency mentioning some places to get them in the islands. I'll try to remember to look that up for you.

Cheers, RickG


Caribbean Villas mentions cell phone rentals on STJ: Trevor 340-642-4179

On STT: Amalie Business Center - 340-774-0688 or Genesis Communications - 340-775-5906, 340-776-3811

I have not used these providers as my Cingular/AT&T GSM service is great on island.

Cheers, RickG


Can you get ATT service out of Canada?

In the USA, the service is good in all the US territories.

Perhaps you can buy a text package before leaving Canada and do just text messaging.


ICU,
I'm in the same boat as you. We are flying out of Boston, so have decided to stop at a Best Buy on the way down and pick up an AT&T Go Phone. They have a a cheap phone that we'll load with about $50.00 worth of minutes and should have enough time to call the villa company, rental car company and call home to see how the kids are for the week. We'll save tons as opposed to using our Canadian phone and the peace of mind will be worth it.

[www.bestbuy.com]

Hope this helps,
crickett : )


Make sure your ATT package includes the territories or else you will use up minutes or money fast!


ATT nation wide plan has the VI's on it


We will be back in STT next Tuesday. Once again I will be bringing my Iphone. It works great. I have a nationwide plan and their are no additional charges with AT&T. If on the off chance it picks up a British tower they will deduct it from your bill if you call customer service and explain. An awesome feature that they have is that for $5.99 a month I also get an international roaming plan. Yes, that can be expensive per minute, but, it is cheaper in the long run that renting an international phone. My phone has worked in Europe last spring and Costa Rica last summer. My son will be traveling to Antarctica next winter and our local AT&T store said that it would even work there! I'd be shocked if it didn't work in Canada.


Just wanted toi say thanks to everyone that provided the info !!!

I will be there on Wednesday !!! My firend there says I could go Cingular or AT&T both will work great on the Island approx $40 for the phone which may include some minutes and can be topped up easily.

I will leave it there for his next guests to use as I won't be able to use it or really have no use for it when I come back to Canada.

$40 has to be cheaper than what Bell Canada Charges for Mobile roaming


Using Yak now in Canada for Long Distance with my home phone instead of Bell as my costs went from $31 for 28 minutes to about $3 for the same time with Yak. Just giving back a tip !!!!

Thanks again see you on Wednesday WOO HOO !!!!!


Sorry, only registered users may post in this forum.
St. John Feet Fins 4 Wheel Drive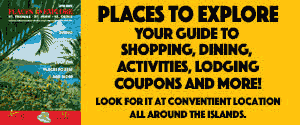 Virgin Islands Newsletter Signup
Sign up now for our FREE Virgin Islands Now Newsletter and we will email you regular updates on what's happening in the Virgin Islands & on VInow.com. You can unsubscribe at any time. Simply fill in the form below.
×