A couple weeks ago, stopped at a 3-way intersection, a jeep turns the corner into the right lane, which happened to be the wrong lane, and stays there. We drive on the left in the islands so I immediately started honking and flashing my headlights to get their attention. They continued onward in the right lane. Other drivers behind me joined in the chorus of honking, and finally the jeep pulled over. As I slowed and the cars behind me did the same, there were several helpful shouts "we drive on the left side here" and "you are on the wrong side of the road" and "please be careful". I'm sure we frightened the driver but he got the message and hopefully remembered to "Keep Left" during the rest of his visit.
Keep Left: Visitors to the USVI, that plan to rent a car, need to know two things to start out with; first the already stated detail that we drive on the left; and second we drive standard American cars so the steering is on the left. It takes a little getting used to but just remind yourself Left, Left, Left.
What else should you know about driving in the Virgin Islands?
The Roads: Aside from one way roads, all roads on Water Island and St. John are one lane in each direction. On St. Thomas there are a couple two lane roads in the downtown area, and on St. Croix there are also a few. The islands are mountainous; flat roads are few, while windy and steep roads are many. Signs that say "Hill" or indicate a turn are common. St. Croix has many more flat roads than its hilly, curvy sister islands.
Beep Beep: The horn is used for friendly communication rather than road rage most of the time. A short single "beep" or double "beep, beep" means "thank you", as in thanks for letting me into traffic. Sometimes the same quick honk might mean "hello" as a driver passes someone they know on the road. Seldom do you hear a long honk. Long honks are usually reserved for large trucks at corners warning other drivers that they are coming.
Why did the chicken cross the road? It is fairly common to see chickens pretty much everywhere in the islands from the beach to the post office parking lot; so seeing them on a roadside is a given. Goats and donkeys are often seen on roads in St. John. A shy deer might be spotted along grassy or forested road sides, and mostly on St. John and St. Thomas. On St. Croix and St. Thomas once in a while you see a horse or cow in the road – but not very often.
Social time while driving: Besides livestock, keep an eye out for other cars stopping unexpectedly. It is not uncommon for drivers to stop when they see someone they know for a quick chat, or to ask a road side vendor how much their fish or papayas are selling for, or to take a better look at an attractive passerby and maybe chat with them. Also not uncommon are drivers swerving from their own lane into the opposite lane in order to avoid a pot hole, miss a muddy puddle, a speed bump, and unfortunately sometimes a recently departed chicken or iguana. Almost always the car veers back into their lane quickly.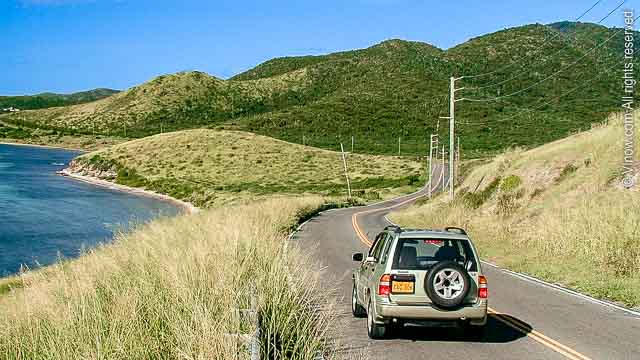 To Yield or not to yield: Yielding to let people in is one of the niceties of island drivers. Drivers are pretty good about yielding to let people out of parking spaces, out of driveways, into traffic at an intersection, and so forth. And how do you say thank you if you are the driver that receives the courtesy – yes, a short beep – glad you were paying attention earlier!
Having your own wheels is a great option while on vacation in the USVI particularly if you plan to explore a lot. You can go shopping, beach hop, try different restaurants – all at your own pace and schedule. Renting a car or jeep is possible on St. Thomas, St. John and St. Croix. On Water Island visitors can rent a golf cart.