In this "Flavors of the VI" post we look at a tropical fruit, an island tradition, and the recipe! I fondly remember picking gooseberries as a child from my neighbor's tree. The little yellow berries were gathered by the handful, but eaten one by one. Their super tart flesh assaulting taste buds with sour juice with every bite. Eating gooseberries fresh is fine if you love sour, but there are really just so many you can eat this way. The tradition is to eat them candied, in a jam or preserve.
Gooseberry Jam is an island favorite; though it can be hard to find. The trees, and therefore the fruit, are uncommon in the Virgin Islands. Gooseberry Jam can sometimes be found for sale at road side stands, and at food fairs that take place during Carnival and Christmas. While it's called jam, it's not the same consistency as the jam you spread on toast. Gooseberry Jam contains the whole berry including the seeds, and is in syrup. You can eat it alone or as a topping for something like ice-cream.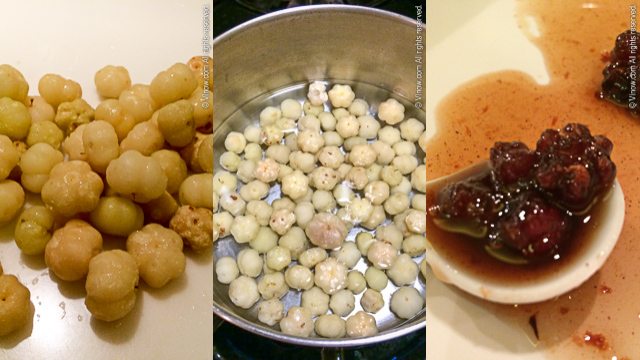 Gooseberries, and Gooseberry Jam
Want to sample locally made treats and desserts while on vacation in the Virgin Islands? If you see a roadside table of bottles and treats; stop by and ask the vendor about the different juices, jams, tarts and goodies. They will enjoy the opportunity to have a chat about local food traditions. And you'll have the chance to try locally made desserts and treats.
Gooseberry Jam Recipe
Gooseberry Jam Recipe
2 cups of water
3 3/4 cups sugar
3 3/4 cups gooseberries
2 sticks of cinnamon (or use ground cinnamon)
Vanilla, Ground Cloves, Ground Allspice (Optional)
Wash gooseberries and remove stems. Combine the sugar and water and bring to boiling point. Add gooseberries and cinnamon sticks. Cook slowly for 20-25 minute or until the juice thickens slightly, but before it reaches the jelly stage. Remove cinnamon sticks.  Optional, add a little vanilla, ground cloves and ground all-spice.
Pour into hot sterile jars and close with lid.
Tip: If you'd like to try some Caribbean inspired recipes at home pick up a cookbook, visit our Cookbook section at https://www.vitraders.com/category/books/cookbooks/.