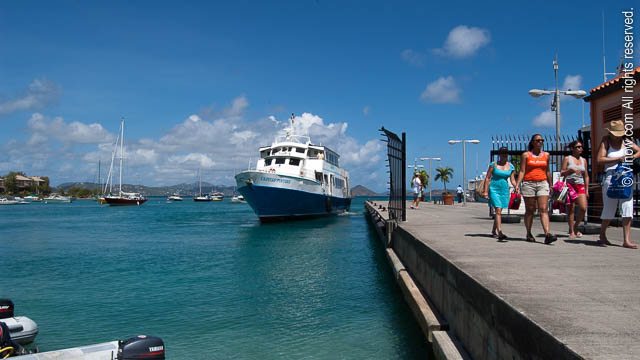 St. John is a great little island and getting there is half the fun! The only way to get to the island of St. John, in the U.S. Virgin Islands, is by boat. Any kind of boat will do, but for most people its likely to be a passenger ferry, charter boat, sail boat, water taxi, or car ferry; from St. Thomas. Let's talk about the options so you can get planning.
Transportation options for getting to St. John
Taking a ferry is reliable, convenient and easy. Daily service is available between St. Thomas & St. John.
Private water taxis offer personalized service, work around your schedule, and are available to get you to St. John.
There is a car ferry between St. Thomas and St. John. That means you can take your car rental over and explore.
Staying on St. Thomas and want a day on St. John? Consider doing a charter or boat rental.
St. John Does Not have an airport. 


The closest airport is Cyril E. King Airport on St. Thomas. The airport code is STT. 


St. Thomas and St. John are both part of the U.S. Virgin Islands. The two islands are maybe 6 miles apart at their closest points. 


From St. Thomas you take a ferry to St. John. 


The main "town" on St. John is called Cruz Bay. 


Cruise ships occasionally call on Cruz Bay, St. John. Passengers are brought to shore on a tender. 


Our St. John is spelled St. John (no s). Once in a blue moon, visitors confuse St. John (island in U.S. Virgin Islands) and St. John's (the capital city in Antigua). Antigua is a different Caribbean island, not part of the USVI, and it is 210 miles away from St. John. Mixing them up can be a pricey mistake with change fees on flights, and hotel cancellations.